Consumers look to spend money on experiences
At the new Lou & Grey apparel store in New York's Flatiron District, a truck is at times spotted nearby serving anything from free pretzels to hot chocolate. If you should post a picture of your freebie and tag Lou & Grey's Instagram account, you get a discount when shopping in the store.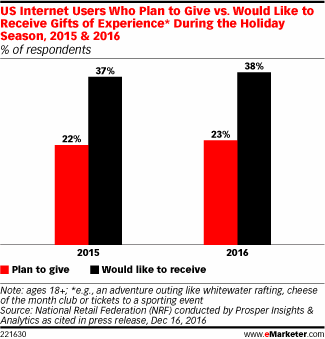 The stunt is not just about discounts, but also about shifting consumer attitudes. Retailers are looking for ways to keep the attention of consumers who are increasingly spending more of their money on experiences, which they often then share on social media.
A National Retail Federation (NRF) survey of almost 7,000 consumers conducted in early December by Prosper Insights & Analytics found that almost two-fifths of consumers said they would like to receive a gift of experience, from tickets to a sporting event to a gym membership. The percentage was highest among 18-24 year-olds, at 57%, followed by nearly 50% among those ages 25 to 34 and 44.3% among 35-to-44-year olds. Even among those ages 65 and older, about one-fifth said they would appreciate a gift of experience.
"It's one of the pressures that retailers face," said Greg Portell, lead partner in the retail practice of strategy and management consulting firm A.T. Kearney. "They are starting to react to that. You are seeing them creating a much more experience-based environment and tying products with experiences in terms of the way they display and talk about products."
A case in point: Whereas outdoor gear retailers in the past might have emphasized the warmth of a coat or other technical features, the pitch now might be more on how their products can deepen consumers' outdoor experience, he said.
"Retailers can't create that experience for you," he said. But "they can make you understand how the product enhances the experience you have."
Experiences and experience-related products such as sporting goods have risen to 28% and 17%, respectively, of $4.3 trillion in consumers' discretionary household consumption as of 2015, up from 22% and 14% of $1.1 trillion in 1985, according to A.T. Kearney's "Consumers @250" study to be released later this year.
"There are a number of forces creating headwinds for retail," Ken Perkins, president of retail research firm Retail Metrics, told eMarketer. "When [millennials] are spending, they are shelling out for experiences that can be posted to social media."
"When you look at social media feeds, people talk about going out and rarely do people share what they bought," said Portell.
While millennials and the younger set may garner the headline when it comes to the experience economy, the demand for experiences cuts across all generations. "The older consumer is also looking for those experiences," Portell said. "The natural inclination of Baby Boomers and Gen X is to downsize. One thing they get is time."