Most social users stay informed via Twitter or Facebook
A 
Pew Research Center
 survey of US social media users found that more are turning to Twitter, YouTube—and even Tumblr—to get news.
Take Twitter, for example. More Twitter users (74%) said they are getting news from the social network than said the same in 2013 (52%).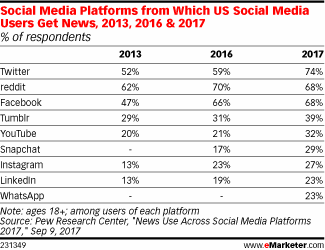 But it's not just Twitter.
More people on YouTube—a platform that's not necessarily known for news content—are also turning to the site for news. In 2013, 20% said they did. Fast forward to 2017, and that number has increased to 32%.
And news-seeking among Snapchat's users also increased by 12 percentage points between 2016 and 2017.
Separate June 2017 data from Kantar, which analyzed the social platforms US users had accessed in the past week, found that by far the highest proportion of respondents—85%—accessed news via Facebook.
By contrast, 39% said they did so via YouTube and almost as many (35%) through Twitter.